Note: I receive no revenue for the products listed below. They are simply my personal obsessions. However, if you work for one of these companies, I would gladly accept any and all perks.
Late-Night Snacking.
They say it's the worst thing you can do to yourself. It's responsible for bad sleep, weight gain, and bad dental health. And yet, when you get your streaming on at the end of a hard day, the hand reaches for something to nibble. Sure, we could shoot for superhero status and just not snack, or we could be honest with ourselves and control one damn thing at a time.
Here's the thing: your snacks need not be the worst things on earth. Instead, you could snack smart. In the same spirit that created the Eat This Not That books and website, I now humbly offer my own Snack Hacks.
 The Salty Hack
For whatever reason, when relaxing at the end of the day, some of us crave our salties. In addition to the requisite bite of sodium content, I want something that has a smart snap under the tooth, loud enough to make me have to turn up the volume on the T.V. Here are a few Not-So-Terrible snacks to make it through this phase:
1. Rice Crackers
[Click to view info]
These crackers really have everything, while actually containing very little of anything. Also, because they are made of rice, they can make you feel a lot fuller than you are. That prevents you from overeating at the worst possible time to do such a thing.
2. Water Lily Pops
My favorite of the alt-popcorn snacks is Tangy Turmeric, which, with the anti-inflammatory properties of turmeric, may actually help you feel not as crappy as you would after a snack sesh. My only complaint is their relatively steep price. I always get them on sale at Whole Foods.
Have you experimented with popping seeds other than corn kernels? I'd like to know!
3. Spicy. Peanuts.
I can't say enough about how amazing these are, and I get all different brands. But my favorites are with Virginia peanuts, which seem longer and much crunchier than your average cocktail variety. Peanuts have a naturally high fat content, but it's the kind that makes your hair and skin healthier. Plus they're packed with protein, so if you had a light dinner, these are a nice, healthy-ish addition. I suppose the greatest risk is eating an entire container and tipping the scales into un-healthy fat consumption.
But who would even do that?
Plus, anything spicy will have anti-inflammatory, even anti-depressant properties. As long as you're not prone to heartburn, consider upping your spice intake.
4. Edamame
Salty. Crunchy. Vegetal. This is probably the winner for healthiest late-night salty snack. Packed with protein, fiber, and antioxidants, you really cannot go wrong with a bowl of these pea pods. They require a minimal amount of cooking, and you can add your own level of saltiness or spice. I am partial to a combination of sea salt, chili flakes, and a little pepper. Get them in their pods so you can lick the seasoning off each one as you pop the peas in your mouth, or get them already out of the pods to drop in a salad or eat with a spoon.
The Sweet Hack
This is a little more of a challenging endeavor, as too much sugar too late in the day can really screw with your sleep patterns and waistline. But sometimes you've just had that kind of day that calls for a sweet ending to make you want to get up the next morning and do it all over again. So here are a few options for lesser evils:
1. Fruit and Yogurt
Though this one is a dynamite breakfast, it can also double as a nighttime indulgence. I come from a long line of ice cream-lovers, which is why I try to channel this craving towards ice cream's more substantial cousin, yogurt. Greek yogurt is especially rich in protein, and therefore a most satisfying experience. Not sweet enough? Consider drizzling some honey, adding brown sugar, or even maple syrup for an extra kick.
I am also living proof of how you can divert your obsession for fruity snacks to actual fruit. Just make sure you're buying fruits with a variety of ripeness so you're always sure to be experiencing the very peak of deliciousness nature's candy has to offer. If fresh fruit is too much to keep track of, go for the dried fruits! It's still sugar, but at least it's fructose and not refined sugars. Pro Tip: Swap out some dried mango for your favorite gummy confections! An added bonus is all the calories you burn just by chewing.
2. Dark Chocolate
You've been hearing this one for ages, that dark chocolate has a greater nutritional content than milk chocolate. Still can't get into it? Why not slowly mix it in with your milk chocolate favorites, or experiment with different percentages of cacao? You may not be ready for a 70%, but maybe start with 30% and work your way up.
Try combining with your salty nuts for that perfect pairing of salty-sweet. Or drop some pieces in with your yogurt and fruit. You can also melt down the squares on your stovetop for dipping fruit, and you've made your own fondue!
3. Yasso Frozen Yogurt Bars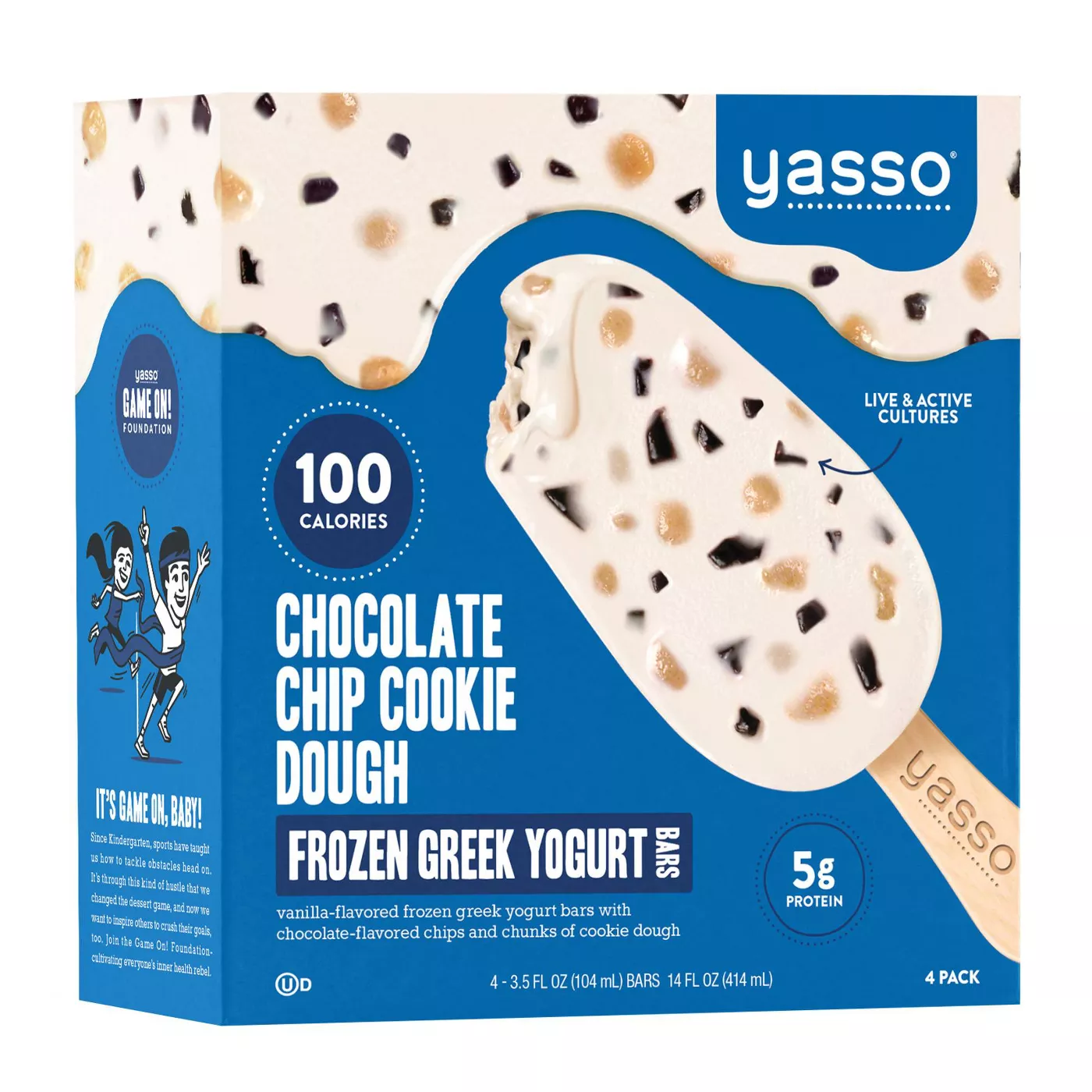 Created by two millennial athletes, I feel like this company gets me. I'm always trying to temper my sugar cravings with healthier options, but sometimes regular yogurt just seems, well…too healthy to be what I reach for in my weaker moments of craving. As I mentioned before, I have inherited the Ice Cream Freak gene, and I can attest that Yasso's frozen yogurt bears more resemblance to ice cream than yogurt. And that may be because the sugar content is slightly higher than other fro-yo brands, so that is one thing to be aware of when digging into a pint or bar.
That said, Yasso's products are terrific not only because they contain protein and live active cultures, but their froyo bars help with pacing and portion-control. Because when I'm gazing at the T.V., I'm not always 100% conscious of how many or how much of what I have in front of me has gone into me. The bars have a built-in pause mechanism that forces you to reconsider whether it's worth depleting your stock for another bar.
I'll also say that, of every other frozen yogurt I've had, Yasso's vanilla flavoring is by far the best around. My favorites of theirs are Chocolate Chip Cookie Dough, Mint Chip, and Cookies and Cream. And it's all about that vanilla.
The Soda Hack
I have gladly followed the trend of ditching sugary drinks in favor of zero-calorie, or more healthful fizzy beverages. With all the variety of non-soda options out there now, I feel there is little excuse left to be supporting these very "Ok-Boomer" companies that have been selling nationalism (or at least the market-friendly illusions thereof) through diabetes-inducing beverages for the last hundred years. "Enjoy!" today, because you're going to the doctor tomorrow.
Instead, consider these thirst-quenching alternatives to pair with your salties at night:
1. Flavored Seltzer Waters
You may still be nauseated by the now-outdated image of hipsters sipping La Croix in beachside selfies, but they may be onto something. Carbonation alone can increase the sensation of sourness in the mouth, and helps to "clear" the mouth. That bite of carbon dioxide is a fun and slightly painful awakening of the senses. Plus, it's still hydrating!
If you're not into the much-hyped brands, seek out non-brand name options from your favorite grocery store. Try out different flavors until you find the one that is most satisfying to you.
IMHO, the best seltzer company around right now is bubly.
I can't say enough good things about Bubly's Mango flavor. In a test of several other brands, including Waterloo, Polar, and Safeway brands, I've decided theirs is the most on-point, satisfying flavor. The only drawback is their price–at around $5-6 for an 8-pack, you can't exactly fill your refrigerator without breaking the bank a little. It is best as a top-shelf addition to a more basic, everyday seltzer like Whole Foods' 365 Ginger sparkling water.
2. Kombucha
Pronounced COM (as in .com)–BOOCH–AH, this is a great option for when you'd like your fizzy drink to have extra oomph. Yes, it has been a yoga studio/health food store favorite now for years, and you may even know that it contains trace amounts of alcohol, thanks to Lindsey Lohan. (But drinking kombucha will not get you drunk, except on umami.)
It is worth getting over your eye-rolls at the trendiness of this special beverage, as it may just be the thing your system has been craving. Kombucha is a tangy, naturally-effervescent, tea-based concoction that satisfies a sweet-and-sour craving, and can help settle your stomach right before bed. A fermented food, kombucha contains live active cultures, meaning it contributes to a healthier gut environment. This means, among other things, healthier poops, which after a night of heavy snacking is just what your morning asked for.
There are tons of brands on the market currently, so it is worth conducting your own research. Some brands take a light-handed approach, making products that are closer to sodas in body and sugar content. Others seem to contain a higher level of active cultures, which you can tell from their intense flavor and heavier body. These are the ones that have the greatest health benefits, but sometimes newcomers prefer to work their way up.
For newcomers to the booch revolution, I suggest the local Baltimore company Wild:
Wild's kombuchas are light and tasty, with a high level of carbonation. Think one step up from seltzer.
For seasoned kombucha drinkers, or just those looking for a more intense, full-body experience, my favorite brands are:
buchi
[Click image for info]
I cannot recommend this brand more highly. Their flavors are smooth, bright, and explode with the perfect balance of tart and sweet. You can practically feel the drink entering thirsty cells as it travels down into your stomach, kick-starting your digestion and filling your whole being with a sense of grounded wholeness.
Health Ade
If you want a super-serious, healthful booch, Health-Ade is for you. These flavors are not messing around, and you will feel that immediately. I'm excited to try more of these pictured flavors, but I can tell you Cherry Berry is a whole-mouth, explosive flavor. And if you need to cleanse, you will find no better than their Cayenne Cleanse.
Brew Dr.
This is another fantastic kombucha, full-bodied and smooth. I'm partial to their Clear Mind with mint, Love with jasmine, lavender and chamomile, and pretty much love every other flavor I've tried. And oh God, the limited edition Watermelon is incredible. I only wish more of their flavors were available in Baltimore City. I think my partner, a professional chef with kombucha brewing experience, prefers this brand to Health-Ade.
One note about kombucha, make sure to supplement with plenty of water as they usually contain varying levels of caffeine. For the same reason, limit yourself to one or two depending on how late it is, and your individual sensitivity to caffeine.
In Conclusion
If you must snack, snack smart.
When it comes to adjusting your late-night snacking habits, experimentation is key. At the end of the day, trust in a combination of snacks that make you feel satisfied but not overly-heavy on your way to bed.
What are your favorite healthy late-night snacks?
If you try any of my suggestions, be sure to leave a comment! My only kickback is the joy of helping other snackers find equilibrium.
Happy Snacking!